Human Fall Flat Steam Key
Human: Fall Flat is a hilarious, light-hearted platformer set in floating dreamscapes that can be played solo or with up to 8 players online. Free new levels keep its vibrant community rewarded.
4 in stock
Add to wishlist
Added to wishlist
Removed from wishlist
10
This is a restricted product and it CAN NOT be activated and played in China, Taiwan, Hong Kong, Japan, the Democratic People's Republic of Korea, Republic of Korea.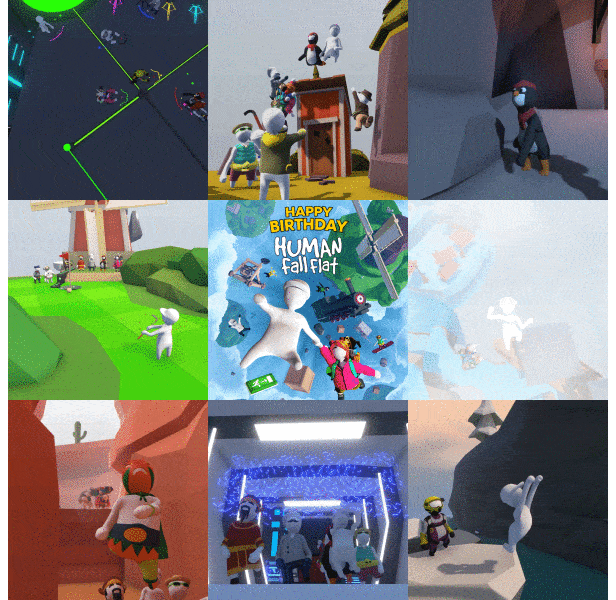 ***NEW LEVEL 'Copper World' AVAILABLE NOW***
Copper World arrives in Human: Fall Flat! An amazing new level inspired by everyone's favourite chemical element, atomic number 29. Also known as Copper!
Welcome to an industrialised zone where gigantic wheels, electric circuits and massive coal engines unlock unthinkable paths. Explore the environment and some of the many points of intrigue in one of the most challenging levels created for Human: Fall Flat!
Grab your friends and maximise the fun in this comical Copper World quest!

Includes 23 great levels. Over 45 million players across all formats. More than 5000 levels in the workshop!
Each dream level provides a new environment to navigate, from mansions, castles and Aztec adventures to snowy mountains, eerie nightscapes and industrial locations. Multiple routes through each level, and perfectly playful puzzles ensure exploration and ingenuity are rewarded.


Need a hand getting that boulder on to a catapult, or need someone to break that wall? Online multiplayer for up to 8 players transforms the way Human: Fall Flat is played.

Your Human is yours to customise. With outfits from builder to chef, skydiver, miner, astronaut and ninja. Choose your head, upper and lower body and get creative with the colours!

The Human: Fall Flat Workshop, unique to Steam, is a fantastic tool which, used alongside Unity, enables players to build their own Human: Fall Flat content and share it with others around the world. Not interested in building levels, lobbies or skins yourself? You can also download more than 5000 different levels and explore other people's creations directly from Steam!

Streamers and YouTubers flock to Human: Fall Flat for its unique, hilarious gameplay. Fans have watched these videos more than 3 Billion times!
Specification:
Human Fall Flat Steam Key
| | |
| --- | --- |
| RELEASE DATE | 21.07.2016 |
| DEVELOPER | |
| PUBLISHER | |

Human Fall Flat Steam Key